Nowadays, there are many bathroom rugs made from different kinds of materials. As a buyer, maybe you have some questions when sourcing bath rugs from China. In this post, we would like to share some FAQs about buying bulk microfiber bath mats from China. Microfiber bath mats are reasonably priced and comfortable, but not all the suppliers can provide the good quality, how can you avoid this problem? Keep reading.
What are the different types of polyester microfiber bath rugs?
A. This is a plain polyester bath rug, the pile height usually can be made from 0.8cm to 4cm, the pile weight is usually from 600gsm to 1600gsm.
B. This is a striped microfiber bath mat, the pile height usually can be made from 0.8cm to 4cm, the pile weight is usually from 600gsm to 1600gsm.
C. This is a jacquard high cut low loop bath rug, the pile height usually can be made 1.2 to 1.8cm, the pile weight is usually from 700gsm to 850gsm.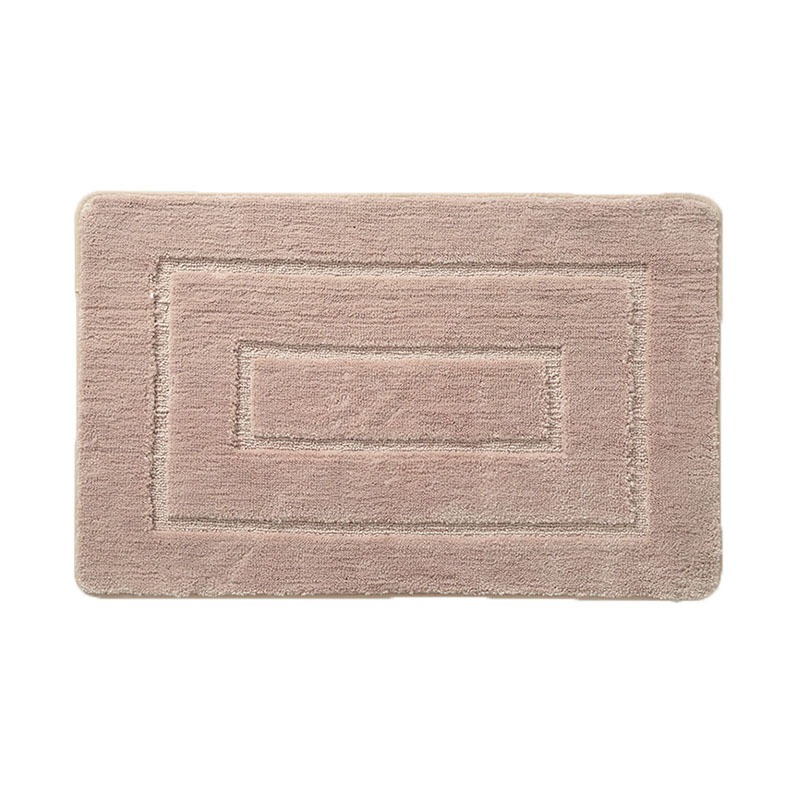 D. This is a jacquard patterned bath rug, the pile height usually can be made from 1.2cm to 1.8cm, the pile weight is usually from 600gsm to 1600gsm.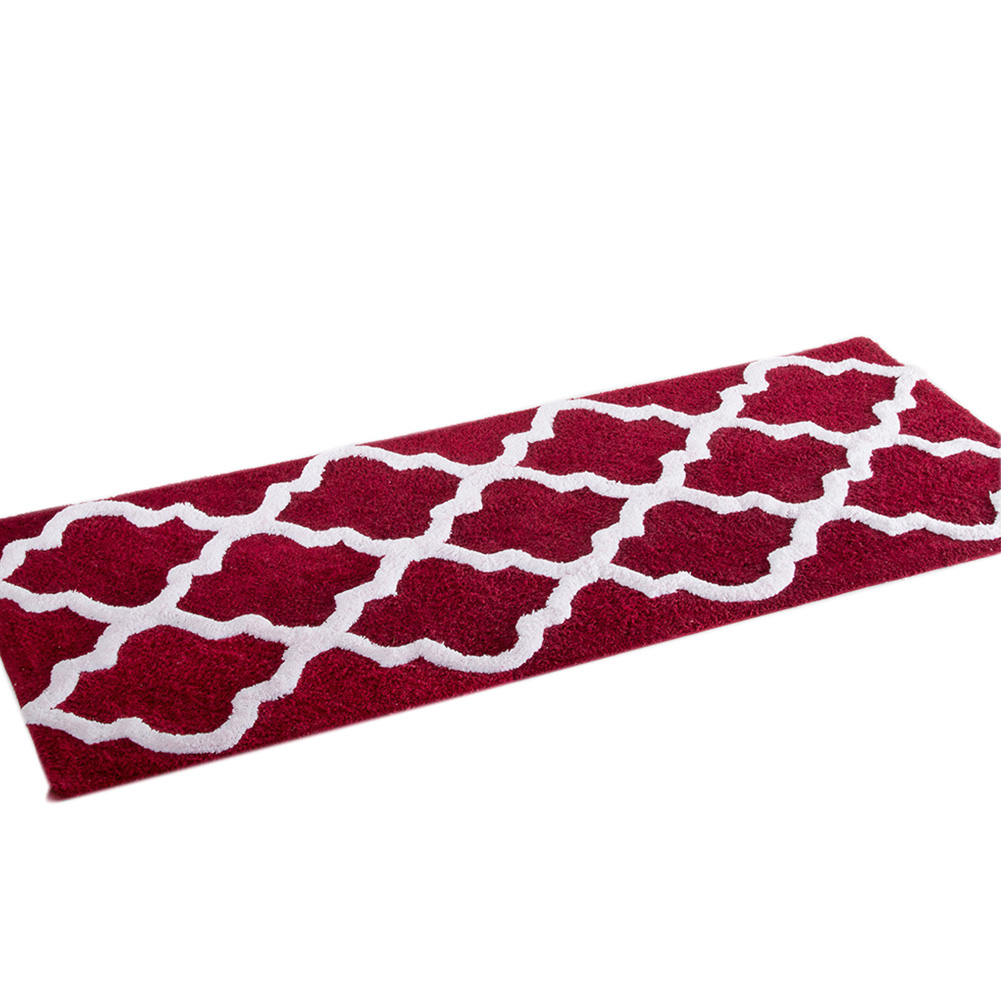 E. High and low pile mixed, usually the pattern with higher pile. High pile 1.8cm, low pile 1.5cm, pile weight about 1000gsm.
Size of the bathroom rugs?
If you are a new buyer, you may don't know the size of the bath rugs. There are usually different kinds of bathroom rugs, such as contour rug, bath runner, toilet lid cover etc. Due to the machine limit, usually the largest width we can do is 120cm, length can be customized. Let's list some normal sizes here. Usually, a 40x60cm, 50x80cm or 60x90cm rug can be placed in front of the sink. A runner rug, 70x120cm or 80x150cm can be placed in front of the bathtub. The pedestal mat usually is 50x50cm or 40x50cm is placed in front of the toilet, and the toilet lid cover is usually 50x47cm. Anyway, where to place the right size of mats are depending on the bathroom sizes. Here is a photo you can get a general idea of different sizes ( it is just for size reference).
Well, if you are looking for a right size bath mat for your round, quadrant or corner shower room, we have good options, click the links below to get more info.
Here is the link for the quadrant shower cabin rug.
https://ecozymat.com/product/round-rug-for-quadrant-sliding-shower-room-mc03/
Here is the link for the corner shower cabin rug.
https://ecozymat.com/product/l-shaped-shower-rug-zj01/
What's your MOQ?
When it comes to the MOQ, it depends on the weight and size of the item. Here is a table for your reference. Please noted gsm means gram weight per square meter.
| | | | |
| --- | --- | --- | --- |
| Size           |          Total Weight | 1650gsm | 1800gsm | 2100gsm |
| 40x60cm | 1400 | 1250 | 1050 |
| 50x80cm | 850 | 750 | 650 |
| 60x90cm | 600 | 550 | 500 |
| 50x120cm | 550 | 500 | 450 |
| 70x120cm | 400 | 350 | 300 |
| 80x150cm | 300 | 250 | 200 |
We fully understand as a new starter, maybe it is not easy for you to reach the MOQ, then you can just contact with us, you can buy the items which our other customers are ordering, then we can produce together, so that you can buy with smaller quantity.
Well, the reason why there is a MOQ is that we need to order yarn from the yarn plants, and they need to have all the yarn dyed, the dying container has a limit, if the quantity is too small, then the dying cost will be really high.
How to ensure the quality of the bulk production?
A. The quality of the yarns is the key, we work with large yarn plant to ensure good quality of yarns, so that to make the mat won't be matted after a period of usage, here is a picture to compare as below.
B. Fastness of our yarns can pass all the tests, so that to make sure our bathroom rugs won't fade after washing
C. Our tufted rugs aretreated with anti-loose coating materials to fix the pile loops after tufted on the primary backing. Our piled carpets use the backside coating method to fix the planted pile loops on the back. So we can make sure our bathmat won't shed easily. Here is a picture to show the processing of fixing the piles.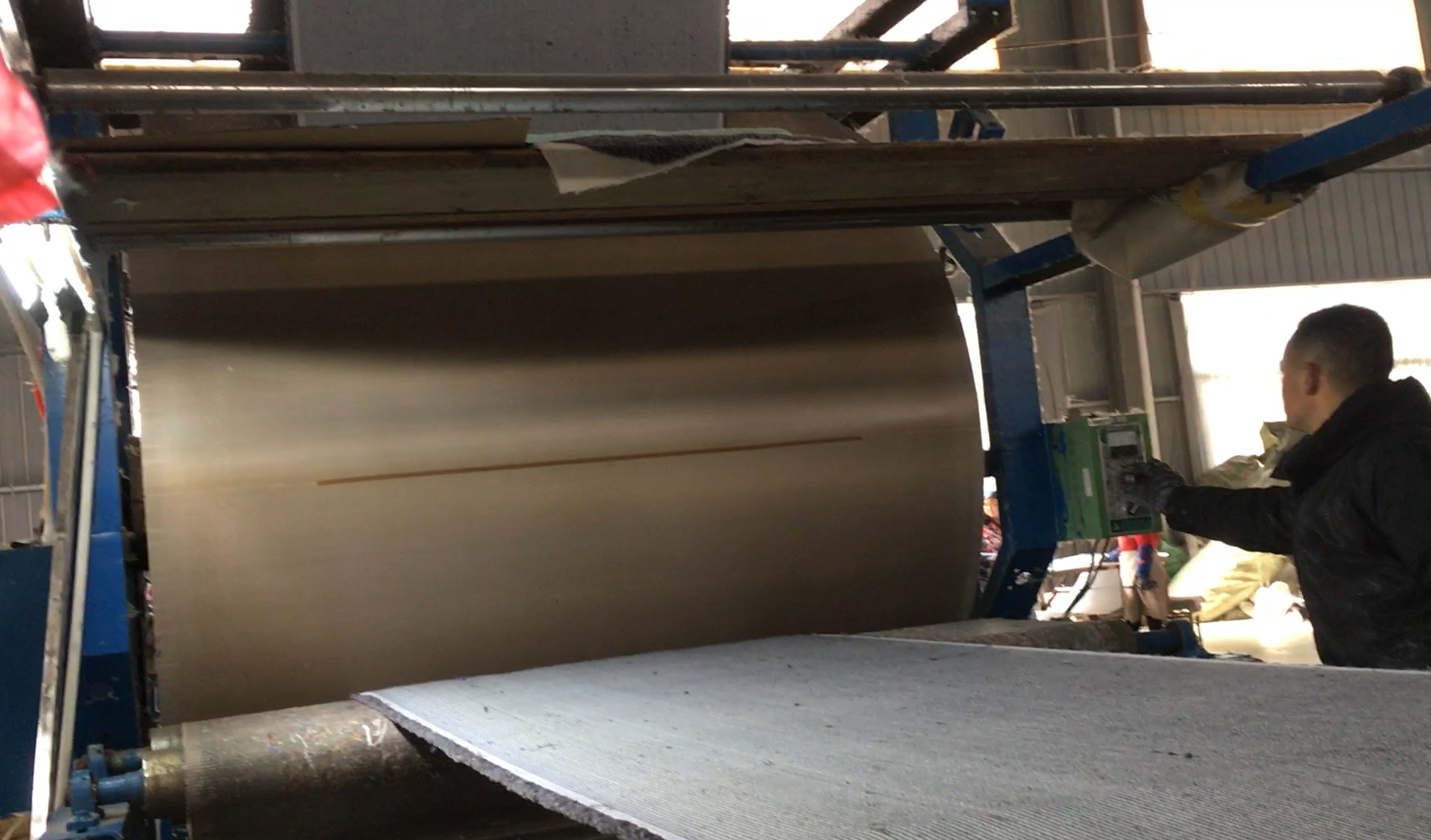 D. Nice edge-sealing and joint handling. Here is a photo to show you the joint of our edge joint. Our edge and joint handling can bear many times washing in machine.
E. A third party inspection is accepted. Usually, the factories have their own QC team to ensure good quality. But you can also appoint a third party inspection before shipment to ensure the bulk quality.
What should be done before the order?
For the first time to work with a supplier, it is better to check the sample first. Usually it is fast to take a sample from the supplier's existing stocks. And customized sample is also available, but it takes longer time and charge higher. For customized sample, you can provide the Pantone color number and the pattern. There are many different Pantone color card, we suggest to use Pantone TPG card, it is for textile, and contains 2625 kinds of colors. If you would like to choose the colors from the supplier, then you can asked for swatches of different colors to be shipped together with the sample. You will get to know the product quality from the samples.
Together with the samples, different ways of packaging material can be provided. Then you can know the what kind of packaging you will go with, surely, packaging can also be customized. Here is a normal packaging solution for Amazon.
If the delivery time is very important to you, it would be better to confirm the delivery time before order.
What services can be provided in transportation?
Appointed forwarders are welcome, we can follow their instructions and support shipment successfully.
Well, we also have our own forwarders can be recommended. We work with some professional forwarders who can help with shipping, customs clearance, taxes charges etc.. For some Amazon customers, it can be very convenient. They can help arrange shipment to the Amazon warehouse directly. We usually call it door to door service.