Nowadays, there are many kinds of bathroom rugs on the market. As a company's buyer, it is better to do market research before finding the correct bath mats for the local market.
What material is suitable, what is the difference between different materials for carpets, and what issues should be paid attention to before purchasing?
In this post, we will analyze the material properties of several popular bathroom mats from these points, hoping to provide some help.
Bath rug material
Cotton
Cotton is one of the most common materials used to make bathroom carpets. It is soft and super absorbent, and it can quickly absorb moisture from the feet. It can also be machine washed.
However, the material quality of cotton varies, some of which are more durable than others. The pile height usually indicates the quality of cotton, the higher the pile, the higher the quality. The downside is that once the cotton bath mat is used on a damp floor for a long time, it will wear out easily. You will need to ensure that the carpet is thoroughly dried frequently. In addition, the cost of cotton bath carpets is usually higher than other materials.
Chenille
The materials used in chenille bathroom mats are basically man-made, including acrylic, rayon and polypropylene. One of the great advantages of Chenille carpets is that they are very durable. This property is due to the fact that the material will not be damaged by continuous exposure to water.
It can absorb moisture well and keep the floor dry and clean. Since chenille bath mats are usually made of thousands of individual piles of microfibers, the mat also dries quickly after absorbing all the moisture. Therefore, for bathrooms that are always damp, this kind of carpet is recommended.
Polyester microfiber
As a synthetic substitute for many fabrics, microfiber materials are becoming more and more common. Microfiber products absorb water, dry quickly, do not slip, and are generally durable. Depending on the style of making this material (for example, flat or plush), it may be one of the softest choices for bathroom carpets. Microfiber is designed to keep your floor dry and clean. It can also be machine washed. One disadvantage of microfibers is that certain synthetic properties can cause skin irritation or mild irritation to people with sensitive skin. However, there are also options for hypoallergenic microfibers.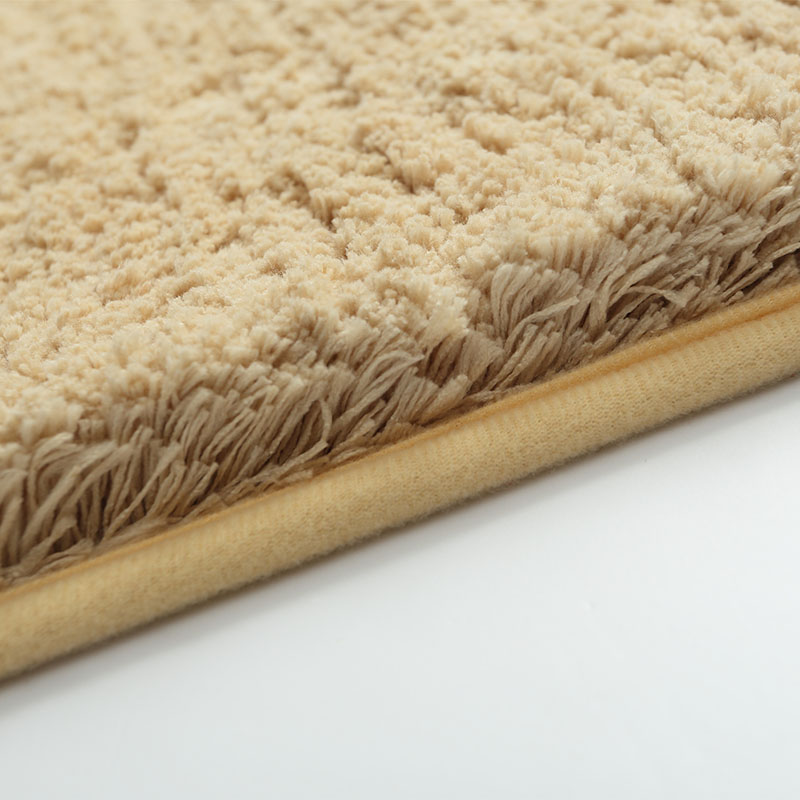 Memory foam
Memory foam bath carpet is also a good choice for bathroom use. Memory foam cushioning can increase comfort and support, especially for sore feet or even back pain. In addition, the mat will quickly absorb moisture and will quickly dry your feet, so you can leave immediately after taking a shower.
Anti-slip
Bath mat is not only a kind of decoration, one of its most important functions is non-slip. Well, different materials of carpets are usually made of different types of backings, and the backings of different materials have different anti-slip properties. This is a picture showing you 4 common backings.
We hope to tell you which base fabric is usually used for bath rugs of different materials through the following table.
| | | | | |
| --- | --- | --- | --- | --- |
| | TPR backing | PVC mesh backing | Hot melt spray backing | Non Woven Plastic Bottom |
| Chenille | Common | Common | Common | No |
| Polyester | Common | No | No | Not common |
| Memory foam | Not common | Common | No | Not common |
When it comes to the non-slip performance of backings of different materials, we list the tables here for your reference.
| | | | | |
| --- | --- | --- | --- | --- |
| Anti-slip performance | TPR backing | PVC mesh backing | hot melt spray backing | Non Woven Plastic Bottom |
| Weight | Heavy | Light | Light | Light |
| Machine wash | Good | Easy damaged | Excellent | Good |
| Anti skid | Good | Excellent | Moderate | Good |
| Stay on floor | Excellent | Good | Moderate | Good |
| Water penetrates to the floor | No | Yes | Yes | Yes |
| Durability ( If wash in machine) | Moderate | Not good | Excellent | Moderate |
| Tumble dry | Low set | OK | OK | OK |
| Stick to the floor | No | No | No | No |
Water absorbency
Water absorption is another basic function of bathmat and pedestal mat. The carpet absorbs moisture to prevent slippage and accidents, ensuring that your feet stay soft and dry.
Generally, cotton bath carpets have excellent absorption capacity and can be dried in a few seconds to kill mold and bacteria that grow in humid conditions. But it does not have a rubber backing, so water can seep into the floor.
Although the water absorption rate of chenille material is very good, but because the chenille fluff is usually very thick, it can absorb a lot of water.
When it comes to microfibers, density and pile height will affect their absorption capacity, usually fluffy fibers are extremely absorbent.
Memory foam toilet mat, the thickness of the memory foam determines how much water it can absorb, usually a memory foam with a height of 1.5cm can absorb water well.
In any case, when buying a carpet, you can specify the softness and water absorption of the yarn, or you can customize it.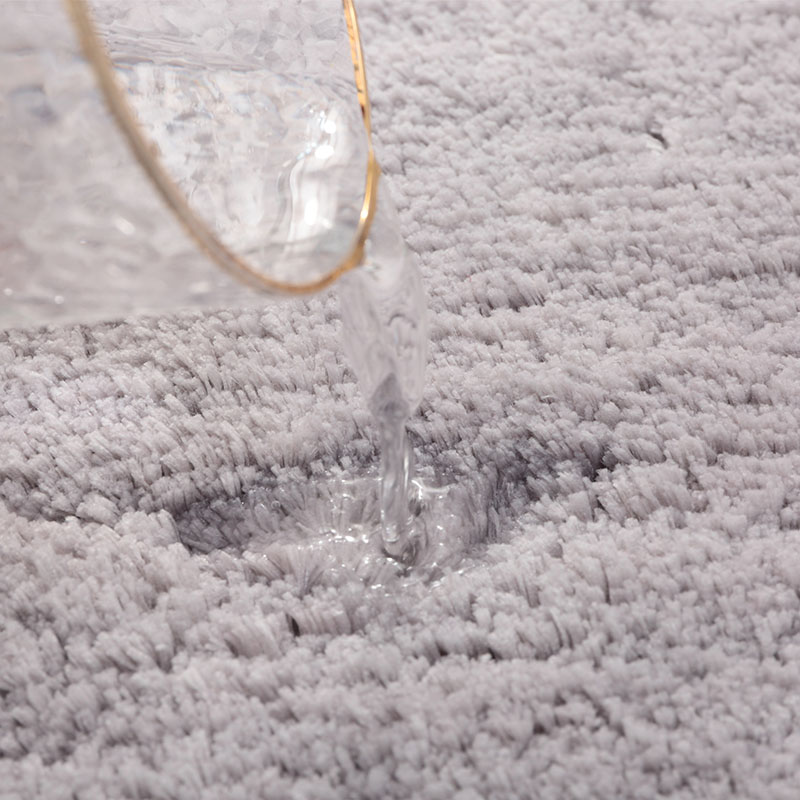 Wash in the machines
Bathroom rugs tend to hold in all the moisture that drips off your body after a shower, which can lead to mold or mildew growth. Plus, bathroom rugs are a magnet for hair and dust, and depending on how well-ventilated your space is, they can also be a haven for mold and mildew. Not to mention, they pick up anything your shoes track in on the way to those last-minute mirror checks.
As mentioned above, all the materials we listed in this article can be machine washed, but the performance is different.
Cotton carpets usually do not have a rubber backing, so they can be washed thousands of times. There are also chenille carpets with hot melt spray backing. The spray glue on the backing is very thin, so it can be washed well in the washing machine. Microfiber bath mats with TPR backing should be washed strictly in accordance with the washing label, washed separately with cold water, tumble-dried at a low water level, and can be machine-washed many times, but not as much as cotton cloth. However, chenille with PVC mesh backing and memory foam with PVC mesh backing do not work well during machine washing, so the backing can easily be damaged.
 Color considerations
Bathroom rugs are an excellent way to add color, texture, and that finishing touch to your bathroom. They serve as both accessories and necessities. Bathroom rugs are also a quick and easy way to add color to the space. The rug should tie the space together and complement its overall style.
After searching about 2 hours from Amazon, we got to know that dark grey, light grey, turquoise, dark brown, light brown, beige etc. are good colors. Here is a picture FYI.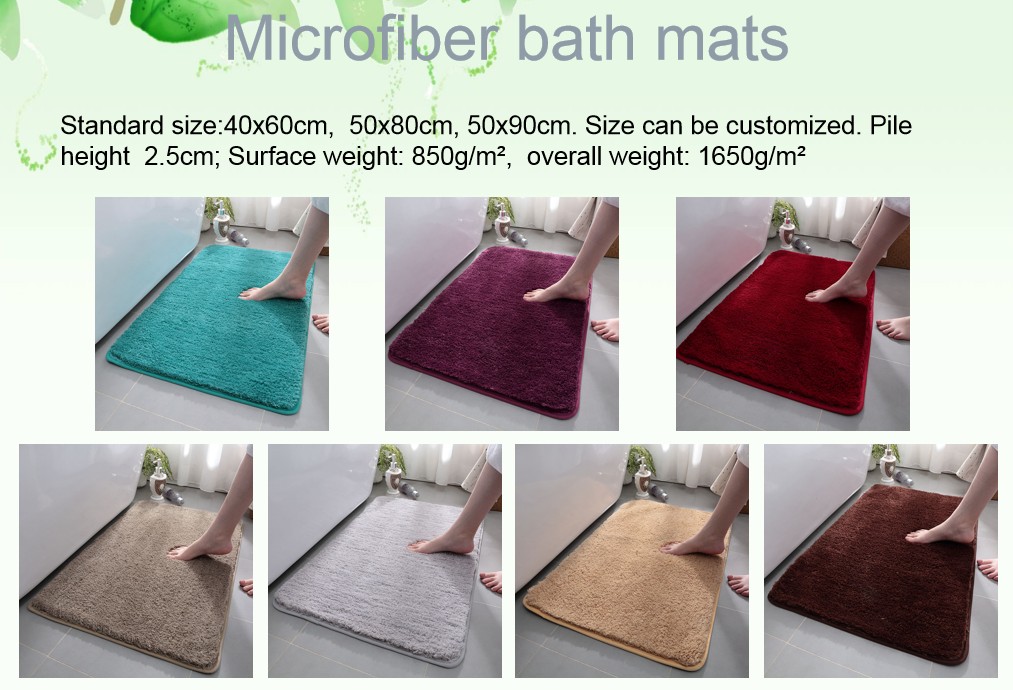 Anyway, there are many colors available, and colors can be customized according to the Pantone color number you appointed. For cotton material, you can use PANTONE TCX card, for polyester material, you can use PANTONE TSX card. Chenille, microfiber and coral fleece ( material on the surface of the memory foam rug) all belongs to polyester.