What's the bath rug that fits your quadrant shower room?
If you have a quadrant shower you probably purchased a mat to step out on to, but the mat you can buy from the market is either rectangular, square or even circular, all those kind of rugs can not fit your quadrant or round shower perfectly. You're stuck with the limited, bulk-produced accessories stocked by the big retail outlets. Have you ever wished somebody had thought of designing one especially for you and your curved shower? Keep reading, we will recommend our curved bath rug in this post.
Here we attach a picture for you to get a quick look as below.
Believe it or not, we can make this kind of curved bathroom rugs that can fit your quadrant or round shower room. We know that on the market, the curved shower enclosure bases are with different curvatures, but we can customize the right sized one.
For more details about the different shower bases, please check our last post :
5 expert tips to source curved bath rugs for quadrant showers
Got a large or small shower stall? Don't worry, there are different sizes of curved shower mat for you to choose from. Luckily, the curved bathmat can also fit the quadrant bathtub.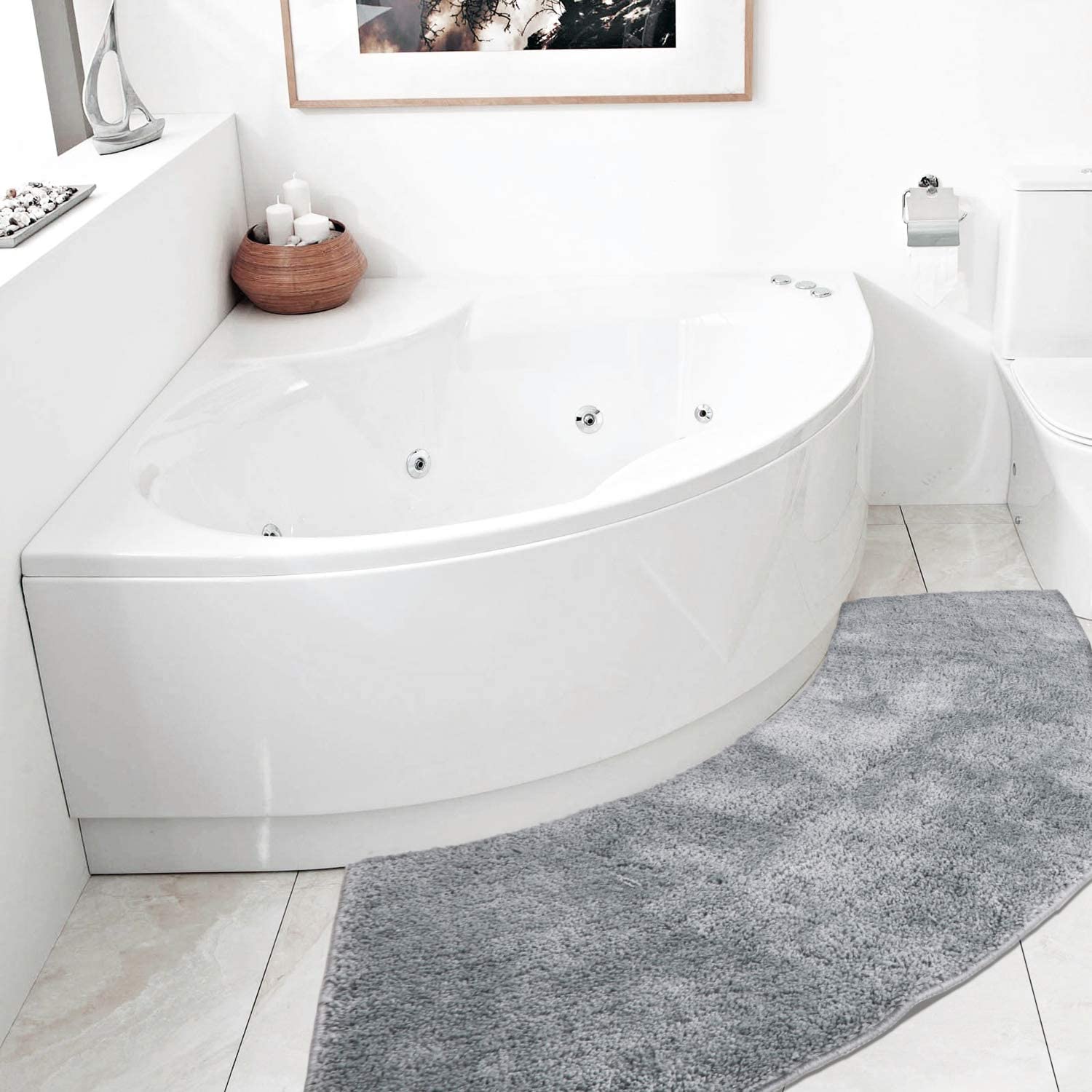 From the pictures you can see they are made from microfiber fabrics, but some customers may love chenille, fortunately, chenille curved shower rugs are available.
Here we attached pictures for your reference.
What's the bathroom rug that fits your square shower enclosure?
Are you still using a square bath mat for your square shower enclosure, especially the one with 2 sliding doors? Like the below picture.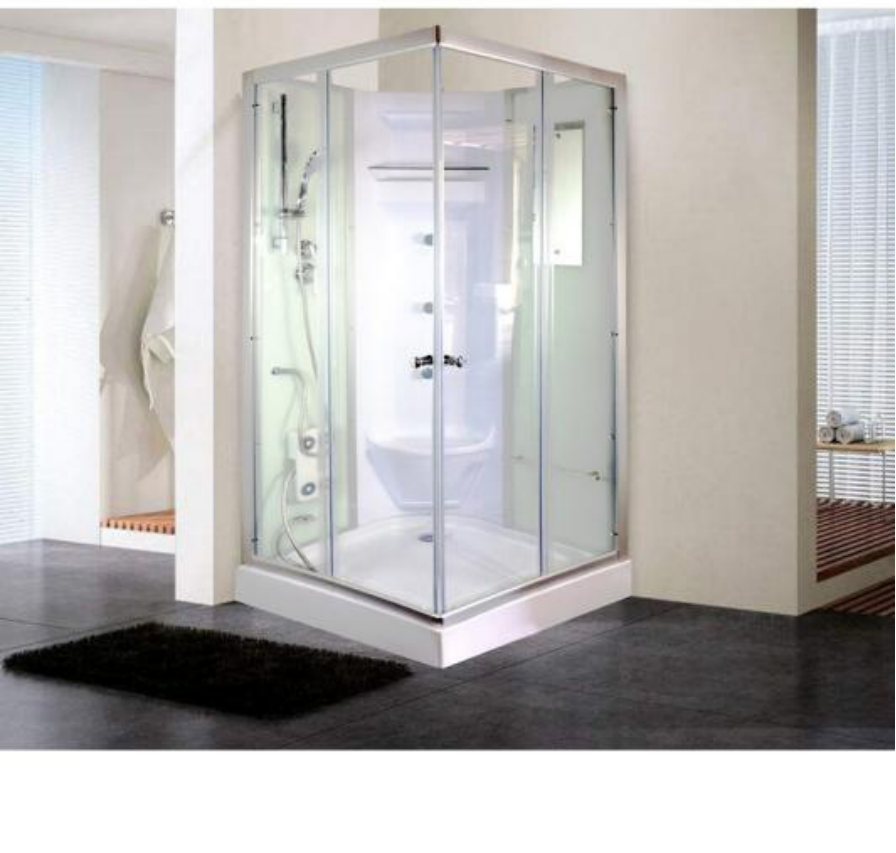 Well, using a square rug is not right, you can check our rug fits the square rug perfectly, we call it L shaped shower rug and the corner shower rug.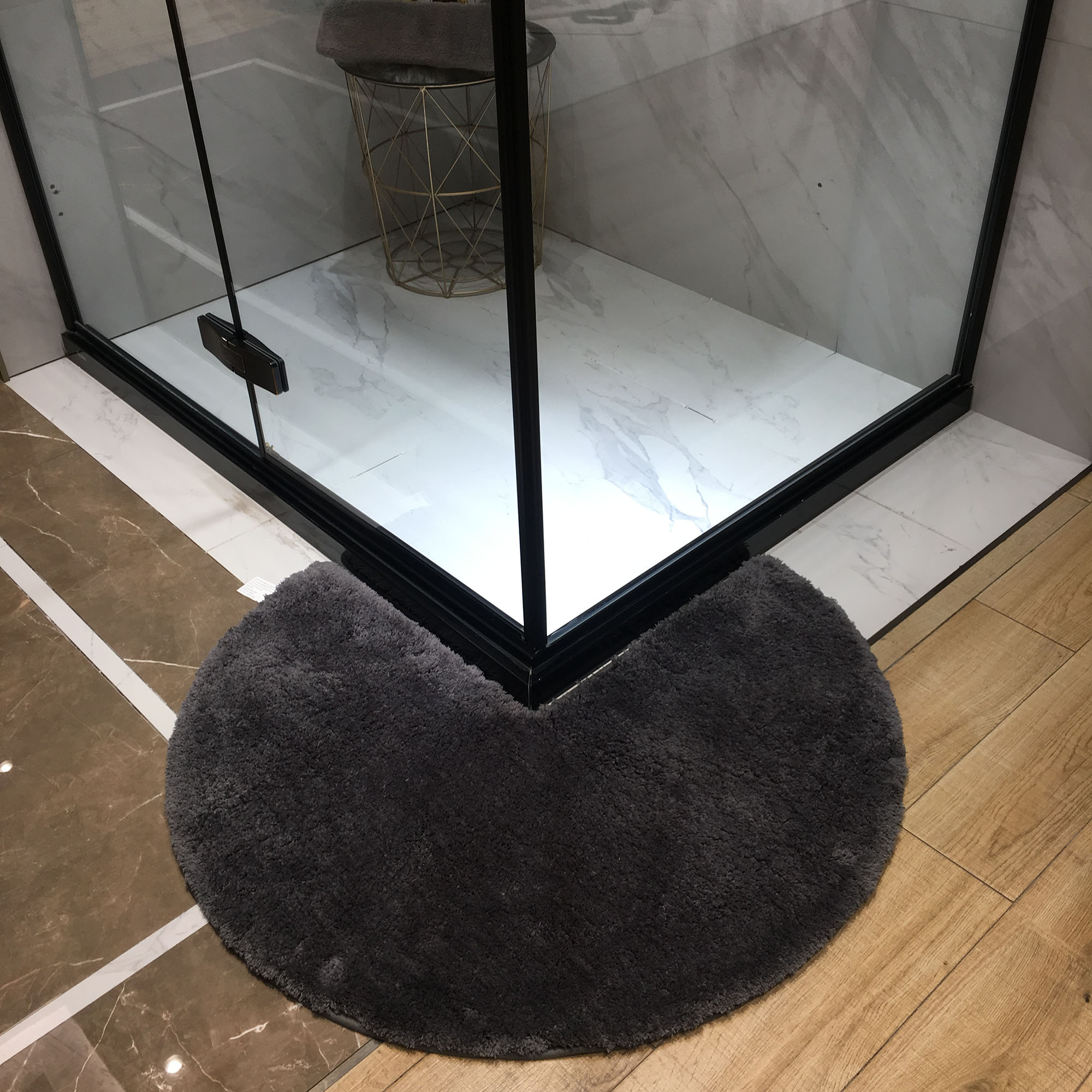 Just like the curved bath rug, it can be made from microfiber material or chenille material, the backing is anti skid TPR rubber.
The size of the L shaped mat we made now is Length 95cm; the corner rug size is R=45cm. Well, both sizes can be customized. If for small bathroom, we suggest to make the sizes smaller, then it is cheap also.
The only difference between the L mat and the corner rug is the shape. However, like the curved rug for the quadrant shower cabin, the shape can also be customized from your draft.
Comparison of the anti slip backing made from different materials
The normal backing we can find on the market now is TPR backing, PVC mesh backing and hot melt spray backing. Here is a photo of each backing.
You may be curious about the features of each backing, here we give a table, hope it can help you when you are sourcing.
| | | | |
| --- | --- | --- | --- |
| | TPR backing | PVC mesh backing | hot melt spray backing |
| Weight | Heavy | Light | Light |
| Machine wash | Good | Easy damaged | Excellent |
| Anti skid | Good | Excellent | Moderate |
| Stay on floor | Excellent | Good | Moderate |
| Water penetrates to the bottom | No | Yes | Yes |
| Durability ( If wash in machine) | Moderate | Not good | Excellent |
| Tumble dry | Low set | OK | OK |
| Stick to the floor | No | No | No |
From the table above, we prefer TPR backing better. Since it is heavy weight, so that it can stay on the floor steadily and does not stain or leave residue on hard surface floors. It is non slip, but it is important to keep it on dry floor. And when it is washed in the washer, it must be cold water and tumble dry low setting.
How to wash bathroom rug the right way?
Check care instructions
Before the first washing of any item, check the care tag first, then you can get to know what material it is, whether it is machine washable or not etc..
Shake it out
Take your bath rug or bath mat outside the door and give it a little shake, it can remove some dirt and hair on the surface of the fabric.
How to Wash Bath Mats in the Washing Machine
For our L shaped rug and the corner bath mat, the backing material is TPR, the key is to wash separately. Bleach and vinegar are not allowed, because vinegar is another no-no since its acidic nature will destroy the rubber backing. Just pour some gentle detergent, but you can add a few drops of tea tree oil along with it to help rid your rug or mat of any unwanted smells. Plus, the fresh fragrance will leave your bathroom smelling like a spa!
You should understand the various settings on your washer and dryer well, choose a gentle cycle setting or a towel setting, If there is no easily identifiable setting that relates to the mats, based on the fabric you may want to choose a delicate or normal setting.
Hot water will hurt the rubber backing that stick on the fibers directly. Eventually, rugs washed in hot water will fall apart as the adhesive disintegrates.
Dry Rug Thoroughly
The rugs with TPR backing can be tumble dry, but it must be low setting. Hang-dry is another method, simply hang it in your laundry room over a drying rack, on a shower rod, or outside on a clothesline. Just be sure to keep it away from the sun to avoid any discoloration. Be sure to allow the bathroom rug to completely dry before using again.