From bright and electric to grey and weighted, blankets help us in many ways throughout the day. They keep us warm, they comfort and relax us. Some even make us smile with their cute little patterns.
That's why finding the right bedroom blankets is an important step we shouldn't ignore. No one wants to get into bed with a scratchy blanket that leaves us cold at night.
What Is the Difference Between a Blanket and a Throw?
Size Matters
The main distinction between a blanket and a throw is the sizing. Blankets, such as fleece blankets, and other types of bedding typically use bed dimensions. In other words, they come in sizing that matches a twin, queen, or king mattress.
A throw is much smaller than a blanket and is meant to be used to throw over a person resting on a couch or chair or even on top of a bed, without having to deal with the size of a regular blanket. . It usually comes in one size, about 50×60'' or 50×70''.
For decor or not
Another distinction between throws and blankets is the decor. Blankets serve a more utilitarian purpose: to keep you warm. Sometimes they are buried in your bedsheets, meaning they aren't on display.
 On the other hand, Throws have several intended purposes. Often, the primary purpose is decoration.  Throws can be draped over couches, chairs, the end of beds, hung on blanket racks or even hung on a wall. Throws are also used to provide warmth and comfort while relaxing on a couch or chair.  By using throws in combination with other decorative elements, you can add unique style to any room.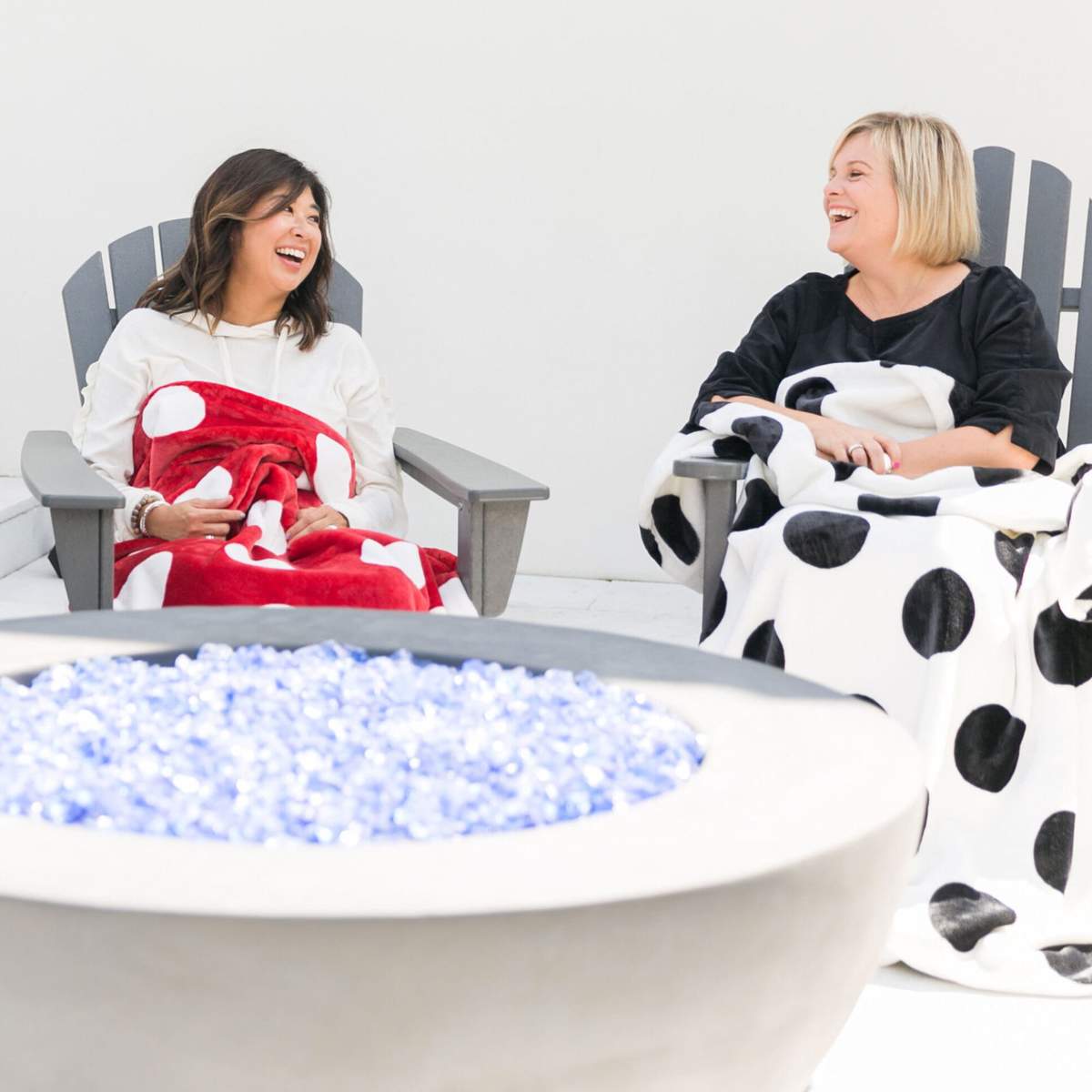 Different types of blankets
1. Fleece blanket
A fleece blanket is an insulating blanket made of a synthetic fabric blend. The term "fleece" often causes confusion, because it is sometimes used to describe part of the wool of sheep. In this context, however, it refers to a specific polyester fabric with no wool content whatsoever. Polar fleece is the most well known type, though a number of varieties are available.
Fleece is a good choice for people with sensitive skin or allergies, yet still need a blanket that provides a lot of warmth. Fleece blankets are generally less expensive than many other types. Depending on the type and how it's made, fleece can melt near flames or high enough heat. There are several subcategories of fleece blankets.
Polar Fleece– Basic fleece is sometimes called polar fleece. Mambe Outdoor Blankets are made of high quality polar fleece. They are wind-proof, water-proof, and are insulated. A general drawback of using a fleece blanket is that they tend to absorb smells more easily than many other types of blankets.
Sherpa Fleece– These are made of a stretchy knit polyester fabric. Typically, Sherpa fleece will have two sides that are distinctly different. There is usually a smooth side that is knitted, with the other side consisting of either real or what looks and feels like real sheep fleece. Sherpa Fleece is made of 100 percent polyester without any other added materials.
Coral Fleece– Coral fleece is very similar to a polar fleece blanket except it is thicker. These blankets aren't just thicker, they have a "furrier" feel to them. Coral fleece is almost exclusively used for blankets and a lot of baby blankets are made from this material.
Micro Fleece– This is a very thin type of fleece that is lightweight and used to keep moisture away from a person's body. This type of fleece is often used for athletic and other types of performance garments.
2. Sherpa blanket
Sherpa blankets are made out of artificial material (like polyester, acrylic or cotton) and can also be called faux-sheepskin or faux shearling. There are two different sides in it, one with a smooth knit side and another with a texture created with the intention to copy how a real sheep's fleece looks and feels. Sherpa fleece can be used for jacket lining, pet beds or throw blankets; they are light, warm, water-resistant, soft and easy to use.
Blankets made using Sherpa fabric are called Sherpa blanket or Sherpa fleece blankets. Types of Sherpa blankets are the Sherpa lined blanket, reversible double layer sided blanket, embroidered Sherpa blanket, and other custom-made styles.
Usually our factory can make sherpa blankets in different weights. For example, 260gsm flannel + 200gsm sherpa, 310gsm flannel + 200gsm sherpa etc.. And we have different designs of sherpa blanket, like striped sherpa blanket, printed sherpa blanket and plain dyed sherpa blanket.
Here is one of our two tone sherpa blanket. You can check more info from the link here: https://ecozymat.com/product/jacquard-two-tone-sofa-sherpa-throw-mt19/
Interesting facts about Sherpa fabric as below.
Sherpa Blankets are great for maintaining body warmth and insulation
Sherpa fabric is most popular for its warmth. It's a great shield against wind and cold weather, making it a must-have during winters
It will wick away perspiration from the body as it's quick to absorb any moisture
Sherpa blankets dry quickly
It's a reasonably light material. Its lightweight characteristic is also one of its main selling points.
Sherpa blankets are reasonably low maintenance. It's easily washable
and will dry quickly.
And we also have faux fur sherpa blanket, you can check more details here.
https://ecozymat.com/product/2ply-faux-fur-sherpa-blanket-throw-mt17/
3. Microfiber blankets
Microfiber is a synthetic material that is known for its great features, but it doesn't mean that it's without its issues. While it might boast a ton of pros that make it a popular choice, it still has a few downsides that you need to know of. When we consider all the advantages of this specific fabric, we first have to mention the durability. As a synthetic material, microfiber was designed with longevity in mind. It can take the strain of constant wear and tear, and will not lose its original form even after numerous machine washings. This brings us to its next big advantage – it is easy to maintain. Most microfiber blankets on the market today boast an easy-care label that allows for machine washing and tumble drying. And when compared to wool blankets or similar natural materials that require special care, this comes as a big plus. Simply follow the instructions and wash your blanket like any other item – no fuss or worries it will come out ruined. And to make things even better, microfiber blankets don't wrinkle when you take them out of the washer. This material is light and flexible, and no matter how you throw it about, it won't wrinkle. If you value a tidy look but don't want to bother ironing your bedding, this will keep microfiber high on your list of favorite materials.
4. Polyester blanket
Another synthetic material, polyester is a durable and more affordable option for material for a blanket.
In fact, a blend of polyester with another natural fabric is a good way to get the best of both worlds; the quality of the natural fabric and the longevity of polyester.
Here's Why You Should Pick This Material
​Polyester blankets are usually more affordable than blankets made from natural materials.
​They can be machine washed and are less likely to show signs of use.
​It is a strong material.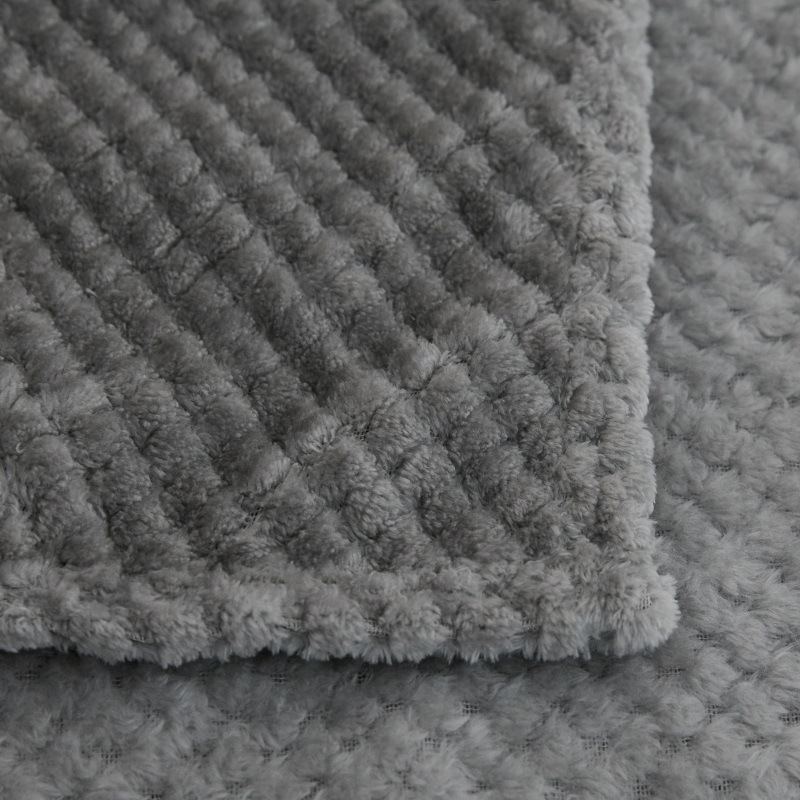 5. Wool blankets
Wool is a diverse material-strong, durable, and soft. Wool, in particular, is known to be the type of standard blanket issued by the military. Wool blankets are also a great option to add to an emergency kit. Their strong material can withstand the elements, perfect in case of a natural disaster.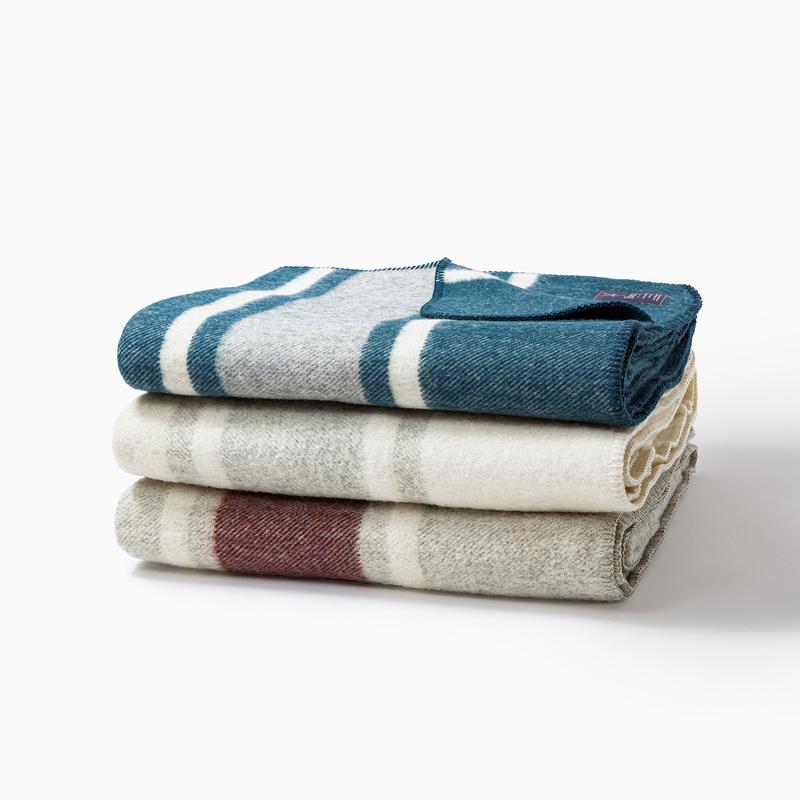 6. Cotton blankets
Cotton blankets are woven blankets made from a single piece of 100% cotton fabric. Since cotton is hypoallergenic and highly breathable, this type of blanket is perfect for babies, young children, or anyone else with sensitive skin. They can also be used all year round – by themselves on cool summer nights or layered with other bed covers during winter.
Pros:
Cotton's breathability helps regulate your body temperature, making cotton blankets great for summer or if you heat easily while you sleep.
Cons:
Cotton is a lightweight, highly breathable material, which means it's not very warm for cooler weather.
This cotton blanket features a richly textured herringbone pattern.
7. Chenille blankets
Those looking for the softest blanket possible will want to choose one made out of chenille. Chenille is sometimes made completely from cotton. It can also be made from rayon or acrylic. The chenille fabric is then formed by tightly wrapping yarn around a core. This causes the edges of the fabric to stand out at a right angle. This ultimately creates the softness and unique look that is known as chenille. Many of these blankets are easy to wash and care for. Others may require dry cleaning. It will depend on the exact types of materials that are used in each blanket. One of the major disadvantages is that they tend to be expensive. Those who are looking to decorate their home with the softest, most attractive blankets will definitely want to look into chenille.
MOQ for different blankets
1> plain color dyeing blankets.
Baby blankets, 2ply 500gsm.
80x100cm, 1000pcs/color
100x140cm, 800pcs/color
Adult blanket, for example, 260gsflannel blanket:
Throw 50"x60", 1000pcs/color
Twin 66"x90", 500pcs/color
Queen 90"x100", 350pcs/color
King 108"x100",  300pcs/color
Patterned blankets.
Baby blankets, 2ply 500gsm.
80x120cm, 3000pcs/color
100x140cm, 2400pcs/color
Adult blanket, for example, 260gsflannel blanket:
Throw 50"x60", 3000pcs/color
Twin 66"x90", 1500pcs/color
Queen 90"x100", 1000pcs/color
King 108"x100",  900pcs/color